Description:
The CD-ROM collects the proceedings of the 1st International Conference on Mechanical Engineering (ICOME-VF) Virtual Forum 2010.
Authors have attended the conference presenting 21 papers.
Papers concern all the fields of mechanics.
The collection of the proceedings offers a complete overview on the state of the art and the worldwide advanced researches in extremely significant sectors of the mechanical engineering field.

Audience:
The proceedings can be used for educational, research, industrial and applied purposes in all the mechanical engineering fields.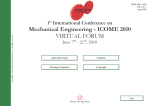 Contents:
Kinematics and dynamics of rigid bodies, Vehicle system dynamics, Theory of machines and mechanisms, Vibration and balancing of machine parts, Stability of mechanical systems, Computational mechanics, Advanced materials and mechanics of materials and structures, Plasticity, Hydromechanics, Aerodynamics, Aeroelasticity, Biomechanics, Geomechanics, Thermodynamics, Heat transfer, Refrigeration, Fluid mechanics, Energy conversion and management, Micromechanics, Nanomechanics, Controlled mechanical systems, Robotics, Mechatronics, Combustion theory and modelling, Turbomachinery, Manufacturing processes, New technology processes, Non-destructive tests and evaluation, New and important applications and trends.
Price and Ordering:
Price: 140.00 euros
To order this cd-rom, please click on the ORDER button, fill out and submit the order form.
You will receive the conditions of sale by e-mail.