Description:
This book is the outcome of the Author's close look at the lifestyle, work culture, education, etc of the Japanese people and the Author's personal observation on their day-to- day activities during a visiting professor in the Department of Advanced Energy, on the Graduate School of Frontier Sciences of the University of Tokyo Campus, located on the outskirts of Kashiwa City of Chiba Prefecture, Japan, from May 21, 2006, to December 21, 2006.
During the six months stay, the Author got an opportunity to observe many aspects of Japanese, such as their lifestyle, culture, educational system, food habits, social movements, etc. personally. The fine culture of the Japanese, in all walks of life, fascinated the Author. This book is an outcome of it.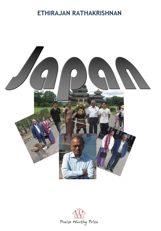 About the Authors:
Ethirajan Rathakrishnan, PhD, is a professor of Aerospace Engineering at the Indian Institute of Technology Kanpur, India. He is well known internationally for his research in the area of high-speed jets. The limit for the passive control of jets, called the Rathakrishnan Limit, is his contribution to the field of jet research, and the concept of breathing blunt nose (BBN), which simultaneously reduces the positive pressure at the nose and increases the low pressure at the base is his contribution to drag reduction at hypersonic speeds. Positioning the twin-vortex Reynolds number at around 5000, by changing the geometry from cylinder, for which the maximum limit for the Reynolds number for positioning the twin-vortex was found to be around 160, by von Karman, to flat plate, is his addition to vortex flow theory. He has published a large number of research articles in many reputed international journals. He is a Fellow of many professional societies including the Royal Aeronautical Society. Rathakrishnan serves as the Editor-in-Chief of the International Review of Aerospace Engineering (IREASE) and International Review of Mechanical Engineering (IREME) journals. He has authored the following textbooks books: Gas Dynamics, 7th ed. (PHI Learning, New Delhi, 2020); Fundamentals of Engineering Thermodynamics, 2nd ed. (PHI Learning, New Delhi, 2005); Fluid Mechanics: An Introduction, 4th ed. (PHI Learning, New Delhi, 2021); Gas Tables, 3rd ed. (Universities Press, Hyderabad, India, 2012); Theory of Compressible Flows (Maruzen Co., Ltd. Tokyo, Japan, 2008); Gas Dynamics Work Book, 2nd ed. (Praise Worthy Prize, Napoli, Italy, 2013); Elements of Heat Transfer (CRC Press, Taylor & Francis Group, Boca Raton, Florida, USA, 2012); Theoretical Aerodynamics (John Wiley, New Jersey, USA, 2013); High Enthalpy Gas Dynamics (John Wiley & Sons Inc., 2015); Dynamique Des Gaz (Praise Worthy Prize, Napoli, Italy, 2015); and Instrumentation, Measurements and Experiments in Fluids, 2nd ed. (CRC Press, Taylor & Francis Group, Boca Raton, Florida, USA, 2017), Helicopter Aerodynamics, (PHI Learning, New Delhi, 2019); Applied Gas Dynamics 2nd ed. (John Wiley & Sons Inc., 2019); Introduction to Aerospace Engineering: Basic Principles of Flight (Wiley, 2021). In addition to the above technical books, Rathakrishnan has published the following literary books in Tamil: Krishna Kaviam (poetry); Vallalar Kappiam (poetry); Tamizthai Kappiam (poetry); Thriuppugaz Inbam (poetry), Indhuboothamum Aarupadaigalum (poetry); Kumbamum Kuzandahi Valarpum (prose), Ramanar Nooru (poetry); Etrappaatu (poetry-prose), Kannan Thudhi (poetry-prose); The power of Spiritualism (English-Tamil, bilingual).